Best of New Zealand Competition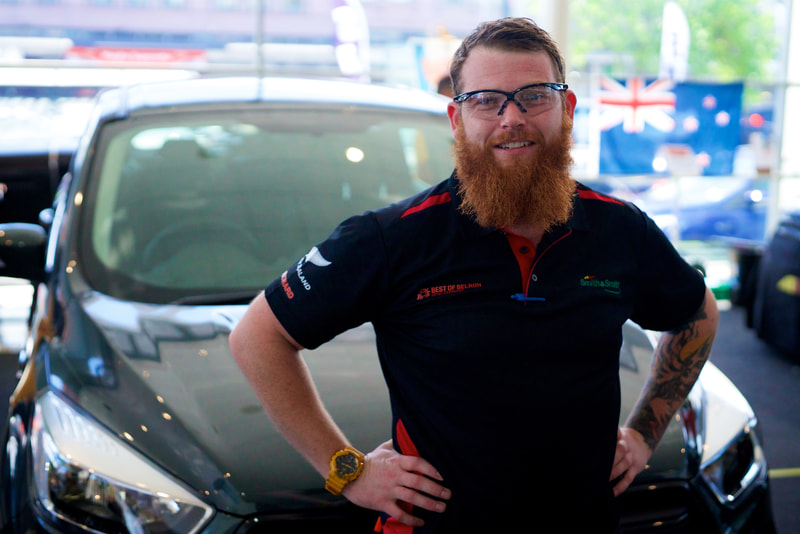 Every 2 years Smith&Smith® technicians put their vehicle glass repair skills to the ultimate test in an internal competition to find the Best of New Zealand.
Technicians from across the country are encouraged to complete with the top 5 technicians going on to compete in a 2-day National Final. During the final, competitors are put through their paces in a series of challenges closely monitored by a team of watchful judges to test everything from customer service to glass fitting and repair skills.
The 2017 Best of New Zealand competition wrapped up in November with the winner, Richard Shortt, from our Hamilton branch winning with the highest scores ever seen it the competitions long history.
Since then Richard has been working closely with our team of Technical Trainers to hone is skills in preparation for competing in Germany this June. The competition in Frankfurt brings the best vehicle glass technicians from across the world to compete in a single arena. We caught up with Richard to hear about his journey so far.
What's the best part about being a vehicle glass technician?
It's the people that you get to meet and work with every day that I love. There are always new customers to meet and my co-workers are cool people. There is also the opportunity to travel the world within the company and that's pretty awesome.
I also enjoy working on different cars, especially the fancy ones, and as we have the best tools in the business it keeps the job interesting. After 12 years in the business I still love what I do.
What additional training you have been doing to prepare to compete in Germany?
Smith&Smith® have managed to secure a loan of the competition car, which is a 2018 Audi Sedan, for me to practice on. I'm also heading down South to have a chat with Avon and Codey, who have represented New Zealand at the competition before, to pick their brains to about what to expect.
The Technical Training Team have been awesome in their support in getting me ready and I know that the additional training over the coming weeks will be intense but I believe we have what it takes to get to where we need to.
How are you feeling about competing on the global stage?
I'm a bit nervous but mostly excited for competition and going over to Frankfurt. I've heard about the Best of Belron competition since I started. It's fantastic that this year I'm actually going to be there competing with the best from all over the world in front of hundreds of people. It's an honour to represent New Zealand on the global stage. I'm really looking forward to the whole experience.
We hear that you will have some special supporters there on the day, tell us about that.
Yes, my family is going to travel over to Frankfurt to support me. My sisters, brother and partner are all making going to be there. My family haven't been together in over a year so it's going to be great to see them all again. I'll have my biggest fans there so I can't wait to show them what I can do.