Come and see us in Gisborne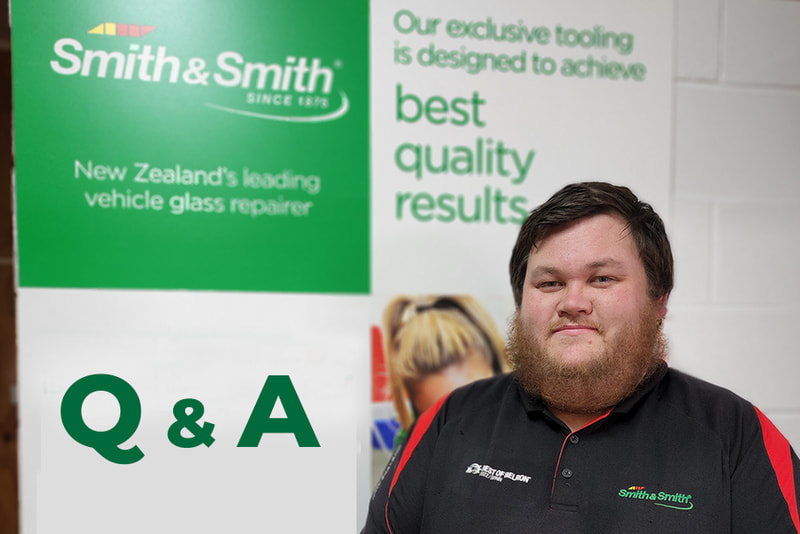 Come and see us in Gisborne
The Gisborne Smith&Smith® corporate branch opened recently at 378 Palmerston Road. This means that Gisborne now offers a full repair and recalibration service. Brodie Vermeulen, the Leading Hand at the branch, moved with his family in March and he is absolutely loving it. We thought we'd take this opportunity to introduce you to Brodie to learn a bit more about what makes him tick.
Q: Why would I use you instead of somebody else?
BV: I am committed to making sure your vehicle is repaired correctly and safely to a high standard every time.
Q: In terms of service what can you offer me that is going to make me a repeat client?
BV: Once your vehicle is with me I work on it asap and get the car finished on time and often sooner. To keep people safer,I will also check the car's window wipers are working correctly and have a range available here for purchase to replace them if needed.
Q: What makes you exceed in your customer service?
BV: I believe friendliness and empathy is the key. Customers are often worried that their car has sustained damage and the resulting inconvenience. I take the time to listen to their frustrations and assure them I will get the problem resolved. I make them feel at ease and give them reassurance that their car is in safe hands.
NB. Ian Roberts, Area Manager adds that the NPS results since Brodie has been at the Gisborne brand have been outstanding with a consistent score of 100%.
Q: Why should I come to you?
BV: Every customer is important here and not just another job. If the windscreen is repairable, I will do it on the spot to get you back on the road or, if it needs replacing, I will help to book you in and get you back in as soon as possible to have it replaced.
Q: How long have you been with the company?
BV: Six and a half years and I've enjoyed every minute of it.
Q: What do you enjoy most about your job?
BV: When I was mobile in the Coromandel, driving around seeing the sights was awesome. Now in Gisborne means being able to interact with customers on a daily basis and listening to the stories they have to tell about how it happened. Some customers are rather enthusiastic about this!
Q: Tell us a little about your background
BV: I am originally from Invercargill!!! I started with Smith&Smith® in Hamilton and then moved on to the Coromandel mobile run and I am now here in Gisborne.