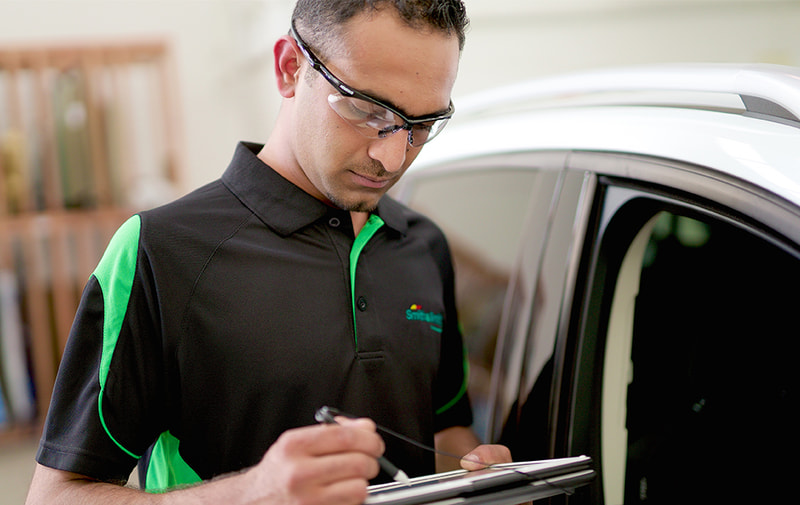 It's amazing how quickly word can spread around your whanau, friends and people you know, just like wildfire. That's why we strive to create exceptional customer experiences and hold safety in high regard so that when customers need vehicle glass repairs, Smith&Smith® is top of mind.
Did you know that we follow a specialist global standard procedure which includes 40 different steps? We're also a founding member of the Auto Glass Safety Association of New Zealand* which enforces a national safety standard to ensure safe practices, products and processes.
Our dedication to safety is to help protect all customers and to help get them back on the road safely. Here's a sneak peek into just some of the daily mahi of our technicians:
Firstly, they inspect the vehicle, check the fitting instructions and communicate details of the job with the customer.
They assess the safety of their working environment, check what parts are required and add necessary protection to the customer's vehicle. This includes carefully checking positioning and the condition of original parts to ensure that they are reinstalled correctly following the job.
Finally, the technician performs a final check of the job and speaks with the customer outlining the job and answering any questions they may have.
By following our 40-step process to the letter, we don't just uphold the safety of customers but also their vehicles, and our technicians. Whether the job is big or small, a broken windscreen or a wiper blade replacement, everything we do is backed by this process. With this in place, we can guarantee consistency across every Smith&Smith® branch – from Kerikeri to Wanaka.
What does this mean? It means that when customers need vehicle glass repairs, they can feel confident that we go above-and-beyond.
As we move into the future, we continue to review and develop our safety processes to be the best in New Zealand. We provide ongoing training to our technicians so they can stay on the pulse of industry best practices.
By putting safety first, we help take care of all customers. It's one of the many reasons why customers should insist on using Smith&Smith® as their dedicated vehicle glass repair provider.
*Please contact your account manager would like a copy of the Auto Glazing Safety Association of New Zealand Safety Standards.