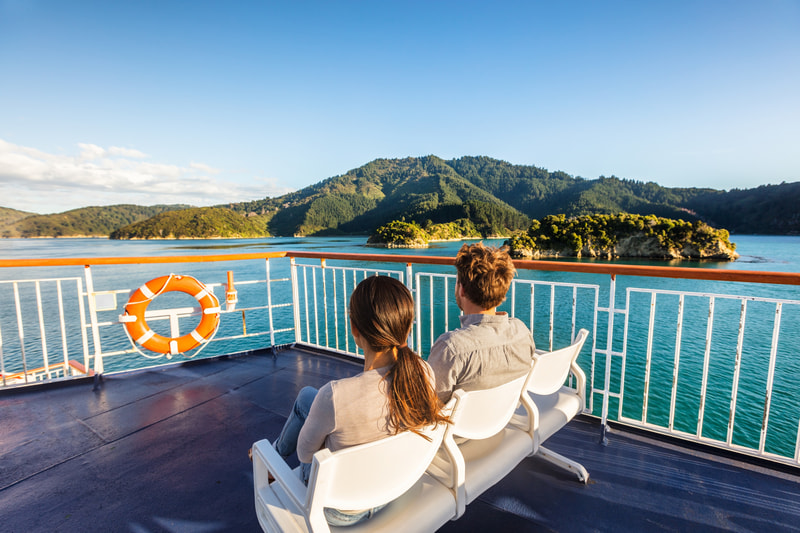 We all need a break away during the dreary winter months, but you don't need to travel far to feel like you've had a holiday. If you're based in Auckland, Wellington or Christchurch, we've created a list of staycation ideas so you can have a holiday break without travelling this season.
Auckland
Escaping the city and exploring the arts in Waiheke

We often think of Waiheke as a summer getaway with its pristine beaches. However, in winter it's just as enticing.
There's nothing better than sitting by a fire in the evenings with a glass of red at one of the many local wineries – Mudbrick, Passage Rock and Tantalus. Be sure to check opening times ahead of time as some wineries do close over the winter months.
Waiheke is known for its arts scene, and its Arts Trail means you can explore all the galleries have to offer. You can even pick up an art map at the Community Art Gallery in Oneroa which will take you first through Alison Park to see the sculptures on towards the Artworks Centre with many more options through the island to keep you busy all weekend.
When it comes to places to stay, Waiheke has plenty of cosy hotels, B&Bs and baches to rent for a weekend getaway and at this time of year, prices are no longer at the summer premium rates.
While it's only a 30 minute ferry ride away, Waiheke always feels like a true escape from the city.
Foodies weekend in Matakana
Matakana has undergone a dramatic change in recent years, from a small village to a bustling Auckland getaway, and it's only a 45 minute drive away.
While people stop in during the hotter months on the way to Goat Island for snorkeling, in winter, it can a be the perfect escape, especially for foodies.
There are wine bars and cafes, often serving glasses from the local wineries of pinot gris, merlot, and syrah, perfect for the chilly evenings. There's also the Matakana wine trail to make your way through (Ransom, Ascension, Brick Bay or Hyperion wines…. The list goes on).
Then there's the Saturday morning markets which have become a key foodie destination. What started as a market on the river bank for fruit and vegetables has expanded into markets with everything from locally-baked bread, sausages, seafood, and international food.
For accommodation there are plenty of lodges, cottages and B&Bs and for a little bit of luxury there's the Riverside Matakana.
Staying in the CBD
With the money you save from not taking flights, it's a good excuse to splurge on the food and accommodation on your staycation.
With all the fanciest hotels, whether it's the Langham, SkyCity Grand or the Hilton, and fabulous restaurants, from the Grove to the Sugar Club or The Grill, staying in the CBD can be just as exciting as an overseas trip.
Saturday mornings are market mornings, and they're a great time to check out the fabulous produce from local artisan producers and growers at the Britomart or Parnell markets, both run by La Cigale and voted Auckland's best food markets for the last eight years by Metro magazine.
While we might head into the city for work during the weekdays, the city takes on a life of its own after hours. There is plenty going on in the CBD during the winter months, from laughing yourself warm at The Classic Comedy Club to catching a show at the Civic.
When you're staying in the CBD, it's just a quick walk down to the Viaduct area. There you can spend time walking through the wonderful New Zealand Maritime Museum (free for Aucklanders) before heading to the ferry terminal for a cruise.
Devonport is always a popular option, but a lesser known location for a ferry trip is Riverhead. The ferry trip out to Riverhead takes around an hour and a half and is perfect for lunch or dinner at the Riverhead historic tavern which often has live music on Sundays.
Easy, fun day trips from Auckland
On a staycation, a day trip out of the city can still leave you feeling relaxed and refreshed. One idea, on a crisp, sunny day (with a flashlight in hand), is to head out towards Piha to the lesser known Whatipu Beach, where you can explore the Whatipu Caves. The largest cave there, Te Ana Ru, was even once used as a ballroom by early European settlers.
When it comes to caves, another good option is to drive out to the free Waipu Glowworm caves, which have a two kilometre walk through some magnificent views of stalagmites, stalactites and glowworms. Remember, you'll need a torch and study shoes or wellies for this one too!
If you prefer being outdoors to exploring caves, you may prefer taking the ferry out to Tiritiri Matangi Island, to explore the pest free wildlife sanctuary. Note that you can also stay the night in the DOC bunkhouse, to truly have a city escape.

Rotorua Island, about an hour away from the city on the ferry is another wildlife sanctuary island which has a variety of accommodation options available.
Wellington
Kapiti Coast
It's only an hour's drive from Wellington, but this rolling coastal landscape offers plenty of opportunities to get up close to nature.
If you're up for a whole day adventure, Kapiti Island itself is worth exploring, with its remnant native forest and renowned bird sanctuary. You can even stay overnight at the Kapiti Island Lodge and get a taste of genuine Māori hospitality.
Other nature reserves on the mainland include Ngā Manu and Waikanae Estuary.
If you're feeling energetic, there is a wealth of walkways and cycleways to explore – not to mention all of Kapiti's stunning beaches, (Peka Peka beach is a great spot to watch the sun set over Kapiti Island).
The trails along the Waikanae River are popular with horse riders as well. The Kapiti Equestrian Centre, offers horse rides and lessons not only for the river but also the coastline too. Queen Elizabeth Park, to the south, offers a less challenging area to navigate, as the last remaining area of natural dunes on the coast.
Wellington on a plate
The annual Visa Wellington on a Plate is held in Wellington across three weekends during August, and is one of the most important foodie events for the 'culinary capital'. It's the perfect excuse to have a mid-winter weekend of delicious food, with hundreds of participating restaurants, cafes, bars and food trucks.
The events are scattered throughout the city in a 'region-wide culinary takeover', so you can choose an inner city hotel as your base as you make your way through all the menus.
Eco retreats and day walks in the Sounds
It's a spectacular view heading over to Picton and is a particularly beautiful ferry ride at sunset time. In fact it's often referred to as one of the most scenic ferry rides in the world.
With the ferry ride taking around three hours, it's best to save this for a long weekend. From there it's easy to head out to the Marlborough Sounds and all the natural beauty this entails.
You can head to the famed eco retreat, Lochmara Lodge either for a day trip from Picton or for a weekend away. Lochmara lodge also hosts yoga retreats on site.
The Marlborough Sounds is a great place to get in touch with nature and there are a range of lodges and resorts to choose from along the track from the Queen Charlotte to Keneperu Sounds.
With its amazing coastal views of the Sounds weaving through native bush, this walkway is worth even a short venture in and out.
Christchurch
The quiet of the golf course
If you'd like your winter staycation photos to feature a backdrop of snow, you may prefer to cross the Canterbury plains to the foot of the Southern Alps. Close to Mt Hutt ski field and Methven, Terrace Downs is the perfect high country destination for luxury winter getaways.
Set on a picturesque golf course, the resort has a range of accommodation, restaurant facilities and a day spa. There is jet boating and river rafting just down the road and plenty of scenic walking tracks to explore throughout the valley.
You may want to swing a golf club or just take a scenic drive in the cart. There's clay bird shooting, heli skiing or a short drive to the top of Mt Hutt and later on, you can soak in the spectacular alpine surroundings from one of the many decks. Terrace Downs offers an ultimate winter escape with all the trimmings.
Hanmer Springs
Another fantastic getaway that's well worth the drive is the resort town of Hanmer Springs. Located almost two hours north-west of Christchurch, this little town has a large number of attractions – restaurants, a luxurious thermal pool complex, mountain biking and walking tracks, skiing nearby and even bungy jumping if you feel inclined.
Surrounded by mountains and forests, Hanmer really manages to cater for all tastes – with adventure, relaxation and indulgence well covered. You should really look to stay a couple of nights so you have time to completely unwind. Be sure to factor the hot spring pools in as a top priority here.
To make the journey more enticing, you'll pass through the Waipara Valley wine region on the way (about 40 minutes drive from Christchurch). With 80 vineyards in the area – and plenty of award winners in the region's specialty wines, Pinot Noir and Riesling – this area is hard to pass by without stopping.
Hit the track
Christchurch has a number of wonderful walking or bike trails nearby, that can make a staycation at home one that's filled with fresh air and getting back in touch with nature.
Forest Park and Spencer Park are some great options and ones that have a larger recreation area so that afterwards, a romantic picnic on a fine day is an option too.
For more challenging trails, the Victoria Park and Greenwood Park are good options.
If you want some time by the waterside, the walk from Cass Bay to Magazine Bay is an easy 30 minute option. There's also of course Diamond Harbour.
If you do want to get out of the city though, a two hour drive away is the magnificent Arthur's Pass National Park. For a bit of luxury, you can stay in the Wilderness Lodge right in the heart of the Southern Alps. The Arthur's Pass Alpine Motel and Mountain House Motel offer cheaper but still wonderful alternatives, meaning you can make a weekend of it on any budget.